KC company goes national with fresh, pre-made meals
You know you're cooking up something right when you grow from a 25 sq. ft. home kitchen to a 44,000 sq. ft. headquarters and commercial kitchen facility, 12 retail stores in six states, and nationwide meal shipping.
That's what's happened at Kansas City, Kan.-based Eat to Evolve, a company that has found its recipe for success providing healthy, pre-made meals to customers all across the country.
Eat to Evolve owners Jason and Caleb Fechter started the business nine years ago with the idea of delivering fresh meals to a small number of homes locally.
When the first customer requested paleo meals, it was serendipity. The paleo diet — which includes fruits, vegetables, and meats, but no grains — was quickly gaining in popularity, and Jason and Caleb found a market niche.
The plan was always to make meals fresh and healthy, never frozen. But paleo proved to be such a hit with customers that they focused on that and over time added offerings such as keto, evolve 30, and primal diets.
Fresh juices, broths, soups, salads, and pantry items are an important part of the mix as well.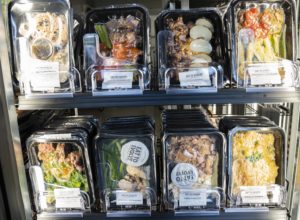 "There's always a new something, but it's all rooted in good food that's healthy," said Caleb.
In the company's operations, Caleb takes the lead in the kitchen with his professional experience and training as a chef.
Jason, with a doctorate of chiropractic degree, master's in business administration, and bachelor's in neurobiology, focuses a lot on the analytical side of the business, while also contributing expertise on the health aspects of food.
Their teamwork and complementary skillsets have helped them navigate the many challenges of growing a small business. And they've learned a number of lessons along the way.
Think of Yourself as the Consumer
Caleb starts by putting himself in the consumer's shoes.
When it comes to food, that means making healthy food people actually want to eat. If you don't clear that hurdle, nothing else matters.
At the same time, Eat to Evolve customers place a premium on convenience.
Convenience is a big reason fast-food chains continue to thrive, even as many people would prefer to make better meal choices. Healthier options have to compete on convenience as well as taste.
"It's not like people are dumb. They know how to eat," Caleb said. "You just don't have time."
Eat to Evolve strives to take the work out of healthy eating.
"We're just doing the math problem for you and say, 'Here's the answer,'" Caleb said.
The math problem that's being solved in this case is taking the components of delicious meals and getting them to add up to 25 net carbs, around 100 grams of fat, and no more than 1,500 to 1,700 calories a day.
A third thing consumers want is for products to address real-world needs.
Many people are facing health problems ranging from diabetes to arthritis to fatigue, all of which can be influenced by "garbage in, garbage out" eating habits.
Jason said customers who feel better when eating healthy appreciate the simplicity of the Eat to Evolve approach. They tell him, "Holy cow, all I do is eat your food. It's just clean food. There's nothing crazy about it. There's just no processed sugars, no dairy, no wheat."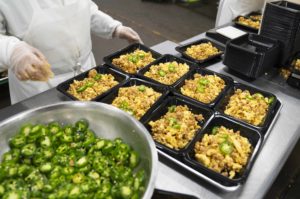 Lastly, customers want choices. As the chef, Caleb spends significant time and energy on this component of the business.
"I like broccoli. I also don't want to eat it three days in a row," he said. "So I think having a variety is key."
That has led to kitchens creations such as chicken fried cauli rice, brisket-stuffed potatoes, and bruschetta turkey burgers, and juices like the Morning Kickstart and Pucker Up Granny.
Never Lose Track of the Bottom Line
As you focus on customers, production, and putting out daily fires in a small business, it can be easy to lose track of profitability, according to Eat to Evolve's founders.
And this is a mistake that can really burn, such as the time they lost $30,000 in one week due to errors in a spreadsheet that led to excess food production.
There also were spans of time in which the duo would only find time to review product costs and profitability every few months.
When they finally got serious about profit margins, inefficiencies became obvious, and they said, "That's why we're not making any money for two years in a row!"
Now they manage expenses on a weekly basis and consider accounting errors and a lack of discipline in monitoring the bottom line two of the key mistakes small businesses make.
Stretch to the Next Level
Another challenge Eat to Evolve considers important is adding staff at the right time, and this sometimes feels like a stretch financially and operationally.
"It's also the biggest key to success," Caleb said. "If you're surrounding yourself with people smarter than you, that you just simply give direction to and let them go … That's the best thing that you can do for your business."
Jason added, "To take the business to the next level, you have to have that next-level employee. And we call it stretching here."
For example, some of the early profitability disappointments the company faced turned around when Eat to Evolve expanded its accounting department. Improved data on food costs provided immediate savings, which, along with other findings, quickly covered the increased payroll costs.
To ensure that a company's "stretch" on a new employee provides a return on the investment, Jason and Caleb advise setting guidelines and goals. Clear communication helps a new employee understand expectations and be set up for success as the owners turn their attention back to other critical tasks within the business.
Learn from Experience — and Others
Even the most talented entrepreneurs don't have the bandwidth to handle every issue exactly right. So Jason said you sometimes just have to act, even with imperfect or incomplete information. There's risk in both action and inaction.
"There isn't time to get 100 percent. Get 70 percent now, and then finalize and tweak and perfect the other 30 percent …" Jason said. "Fail forward. Get it figured out."
Caleb emphasized that quality customer service can carry a small business through most mistakes. Be honest and make things right with customers, and you can keep them if you're offering an outstanding product.
Collaboration is another tool Eat to Evolve's owners recommend to small business owners. They learn from others in their industry, as well as from vendors who can be valuable educational resources and problem solvers. Jason also recommends more formal collaborations such as the Helzberg Entrepreneurial Mentoring Program.
Even after years of experience and growth, Caleb and Jason keep their minds open to change, and they deliberately prioritize learning and risk taking.
Jason said, "We continue to hustle. We continue to work hard. We don't take no for an answer. And we find a way around what we need to get it done."
Chad Bettes is an award-winning writer from Shawnee, Kan. He earned his master's degree from the William Allen White School of Journalism at the University of Kansas.