When it comes to designing high-tech medical devices, Engenious Design in Overland Park is thinking outside the box.
An engineering design firm located in the A.L. Huber space off of Interstate 435, Engenious specializes in designing, prototyping and testing products for a gamut of electronic medical devices.
Co-founders Chris and Holly Justice never intended to start a company, but due to high demand in Kansas City's limited medical device sector, the husband-wife duo started operating their business out of their basement in 2013. Soon after, Engenious began working through the University of Kansas incubator, the Bioscience Technology Business Center at the KU Medical Center.
"We never tried to start an engineering firm," Chris said. "We wanted to create a design firm, which means we have creative people and technical people work on the same product."
Designing Engenious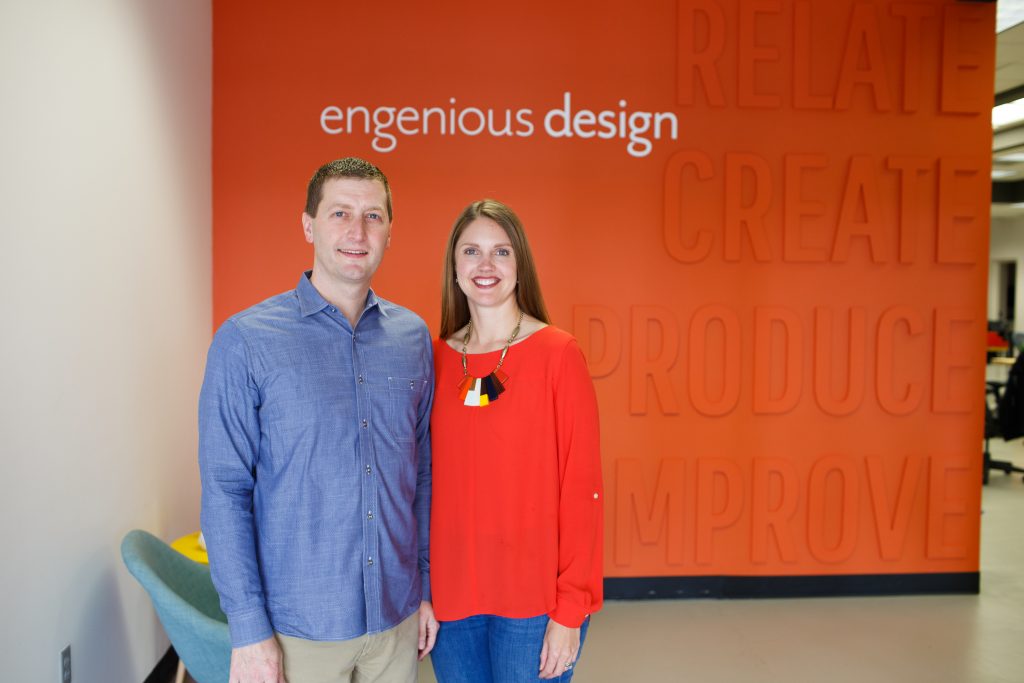 Chris' background in electrical engineering and Holly's background in graphic design and art direction made for an unlikely but innovative symbiosis. While the overlap of their skill sets wasn't immediately obvious, the two combined expertise to found Engenious: a creative engineering firm.
"Figuring out where our two roles collided, we were unsure," Holly said. "But soon we realized that while, yes, other people develop products, how much of a focus or value do they have on the creative process? Are they really thinking about the consumer experience? How are consumers going to perceive these products? That's led us to have different disciplines other design shops may not have."
'Becoming instant experts'
Engenious currently staffs 19 employees, complete with its own model shop and electronics prototype lab. The engineers and designers draw up blueprints for an endless pool of projects, including mechanical ventilators, surgical tools, heart pumps, urology devices, patient monitors, cancer treatment products and solar home lighting systems.
"It's a good attractor of talent. People who love to learn lots of things tend to thrive here," Chris said. "We've become good at becoming instant experts."
Due to the company's creative dimension, Engenious puts a unique focus on consumer experience, which includes testing the look and feel of certain products as well as their functionality. Engenious also conducts focus groups with medical professionals to ensure their products are as user-friendly as possible.
"A lot of our products are with patients for a long period of time," Holly said. "They're sent home with them from the hospital, and people become attached to them.
"These products, sure, they're functional, but they're going to be part of someone's life, so how do we make those interfaces as easy as the other devices they use in their life? We're not the only ones thinking this way, but it's fun to see the industry care more about this experience."
Continued growth
The Justices hope to expand their staff and client base in 2019. While based primarily in Kansas City, Engenious' designs have been produced by manufacturers worldwide, including China and India.
They also get calls from the West Coast, thanks to Kansas City's low regulatory overhead. By partnering with Midwestern companies, Chris explained, medical device companies out west can move to clinical trials more quickly and with lower costs.
"We're continuing to diversify our clients and at the same time have designers here to do the work," Chris said. "We're trying to grow in lockstep with each other.
"It's an inexact science, but that's what keeps it interesting."