The struggle to find quality workers who stay past the first week is real. More businesses than ever before are seeing an increase in turnover. In hospitality industries, turnover rates are at 5.6%, an all-time high and the highest rate across all business sectors. It's time to diversify what you can offer employees when it comes to retaining and attracting top talent.
Our team of recruitment experts has found that, beyond being able to offer flexibility in the workplace, the top three ways to attract and retain top talent include:
Accelerated Payroll Programs
The Onboarding Experience
Career Pathing
Accelerated Payroll Programs
Accelerated payroll programs enable employees to cash out their paychecks as they deem necessary. Lever1's Every Day is Pay Day program came to fruition several years ago when employers demanded same-day pay amidst growing pressure from employees. When bonuses and commissions come in, employees do not want to wait until the next pay cycle some two weeks away to earn their pay. Employers also realize the impact of immediate recognition of paid commissions and the incentive it provides.
Since the pandemic, the added pressure of marketing your business to attract top talent has made accelerated pay a strong differentiator. The standard payroll cycle of getting paid every two weeks or twice a month has become archaic in some industries in which turnover is rampant. Studies have shown that companies offering this program to their employees have a 10% reduction in turnover. An accelerated payroll program allows employees to gain access to their funds as quickly as a daily deposit, and 44% of employees believe having access to pay would inspire more effort in their work and make them more loyal to an employer, thus improving employee retention efforts.
The Onboarding Experience
Before a company begins its onboarding process, it must go through the treacherous ordeal of the recruiting process. In a tight labor market, where job seekers have the upper hand, it is vital that companies diversify themselves. A huge part of recruiting in a labor market such as the one we are seeing now is to sell your business and convince candidates that your company is the one they want to work for. Whether it is through exclamatory job descriptions that emphasize your culture and benefits, or taking candidates to lunches for interviews, there are creative ways to attract top talent.
Did you know 90% of employees decide whether to stay or go within that first six months of employment? A successful onboarding experience will lead to increased employee morale, stronger relationships with the organization and greater employee retention. Whether it's following a 30/60/90-day touch-base plan or outlining what the first few weeks of employment will look like, it's vital to show you are prepared for your new hire.
Some companies offer a series of touch-bases with different department heads within new hires' first few weeks as an introduction to their companies. These touch-bases can be done by providing company-sponsored lunches or taking a new hire to get a cup of coffee. The more a new hire is able to interact with different individuals in the organization, the stronger the relationships will be.
Career Pathing
With over 42% of employees say learning and development are the most important benefits of a job, it is a no-brainer for companies to look at adding mentorship and training opportunities for their staff. Organizations are becoming increasingly aware of the impact coaching can have on the employee and the business. The implementation of training programs shows an investment in your workforce and their future with your company. Employees have increased morale and loyalty in the workplace when they are given opportunities to develop new skills.
While development opportunities have primarily been more targeted towards executives, employers are noting that is not the case anymore. Businesses are seeing the impact coaching can have throughout the organization, and 66% of leadership teams believe their learning function has emerged as a more strategic part of their business. Especially in younger generations, the desire to know what lies ahead for them in their company is increasing. The more an employer can lay out a plan of action and help employees visualize their futures, the better retention there will be.
Have you ever had employees leave to work at larger companies where they feel they will have more opportunities? This is incredibly frustrating when, as a small business owner, you know the opportunities are infinite as your business grows. I have also seen employees early in their careers seem impressed by friends who have a manager title after one to two years on the job even though they may not be "managing" anything. Perception is real, and a clear steppingstone for employees who work at small businesses is crucial for retention. They will compare the frequent job title changes and pay increases their peers earn at large companies where promotion opportunities seem endless. What may seem clear to the owner for the vision of growth within a small business is rarely understood by the employee. Take time to frequently share the business plan and career pathing for all levels of employees to maintain employee satisfaction and retention.
While it may be easier to offer "fun" perks of happy hours and catered lunches, those tend to only be short-term culture changes. By providing long-term programs in your business, you are showing your employees and future employees that you care about their well-being and success with your organization. Whether it be through financial means or career development, candidates are looking for what your company can offer them beyond the typical benefits.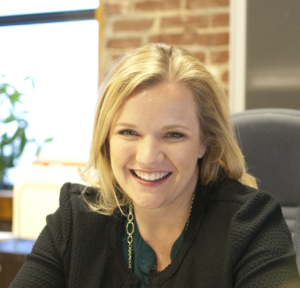 Erica Brune is president of Lever1, a Kansas City-based professional employer organization (PEO) providing human resources, payroll and employee benefit solutions. Within five years of launching Lever1, Erica helped drive the company to become Missouri's Fastest Growing Company of 2017 — ranked No. 44 in the nation by Inc. magazine.