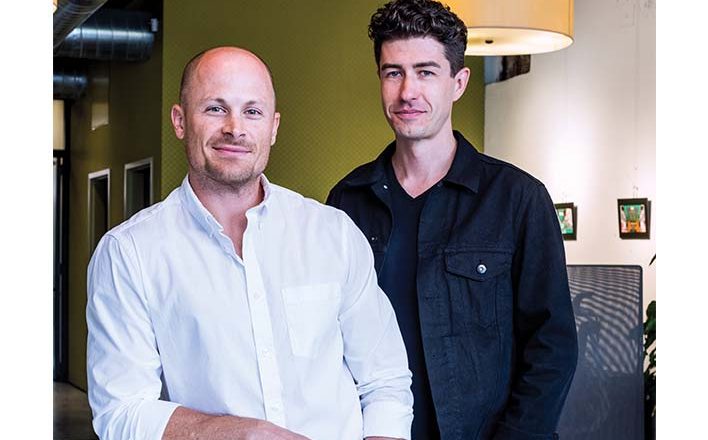 July 2018 Cover: Crema — 'Say Yes and Figure It Out'
George Brooks, Daniel Linhart and the team at Crema build digital products—web and mobile apps, as well as software for wearables and IoT devices. From its studio just south of the Kauffman Center for the Performing Arts, the agency based in Kansas City's Crossroads Arts District serves startups and large businesses across the country.
ENTREPRENEURS
George Brooks and
Daniel Linhart
COMPANY INFORMATION
Crema
1815 Central St.
Kansas City, MO 64108
(816) 220-2141
www.crema.us
TYPE OF BUSINESS
Digital product agency
YEAR FOUNDED
2009
EMPLOYEES
30
KEYS TO SUCCESS
"We're so good at customer service and developing quality relationships that we immediately inspire confidence in our clients." — Daniel Linhart, COO
Clients come to Crema with an idea—sometimes just a basic concept—and the agency helps them develop, design and build the finished product.
That could be a smartwatch app for Adidas. Or a new online portal for Kudelski Security, a Swiss cybersecurity firm.
"We're building solutions to a problem that our clients have," said Linhart, Crema's COO. "We're really good at solving problems, and we're even better at finding the right problems to solve."
Crema, formerly Cremalab, uses a "full stack" approach, with all work being done in-house. Unlike many of its competitors, nothing is outsourced to overseas contractors. As a result, clients see ideas translated into reality faster.
Last year, the agency earned about $2.7 million and could end 2018 with revenues of $3.7 million to $4 million.
Its team is growing, too—from 22 people at the end of 2017 to about 30 now. Crema also launched its first-ever satellite office last year near Indianapolis, it's and is open to opening others.
"I do think we could be one of the top product agencies in the country," said Brooks, Crema's CEO.
Strong Partnership
One thing that Crema doesn't really do anymore: traditional websites that are mostly used for marketing or promotions. While many of their products live online and are delivered over the web, Crema's work is software at heart. Crema helps clients communicate better or accomplish business objectives more efficiently at a greater scale.
To build those products, Crema employs a full team of digital product designers, app developers, product strategists and agile project managers.
Originally, it was just Brooks on his own, freelancing after he left his full-time job as a designer for a marketing agency. Because of health complications, his oldest daughter had to spend the first several months of her life in the hospital. Brooks would bring his laptop and work from her room.
He began specializing in UX—user experience—and soon won a series of contracts.
"I started to take on more clients and realized I had no idea how to run a business," Brooks said.
So he asked Linhart to grab a cup of coffee. The two had been friends since they attended Emporia High School together. Over the years, they'd toyed with the idea of starting a business a few times.
Linhart was pursuing his MBA at Rockhurst University and was working at Blue Cross Blue Shield—in fact, he was in line for a very nice promotion. But he wasn't sure he was on the right path.
So, over coffee, Brooks asked Linhart if he would be interested in going into business with him.
They took a couple of months to talk about what it would look like, but Linhart signed on.
"I don't know anyone who's had as good of a partnership as we've had," Brooks said. "I've never seen anyone work together as well as we do."
Choosing Option 5
At first, Crema mostly just handled design. It would create an interface for an app and then contract with a developer to build it. The company quickly earned a reputation for creating incredible user interface designs and managing large teams to get everything built.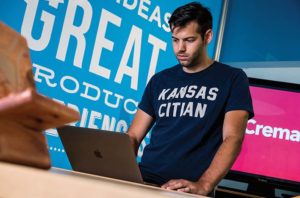 Eventually, Brooks and Linhart wondered what would happen if they had their own team of developers.
"We always were headed down that road," Linhart said. "At some point, we were going to build what we were designing."
So, about three years into the business, Crema added its first developer. Then another. In 2015, its first big year of growth, the company expanded from eight people to 16.
The company started describing itself as a product agency. And it started saying yes to jobs that looked more complex than what it previously tackled.
At Crema, they call this Option 5.
It comes from the time the agency was presented with a big project and was trying to figure out, if it took the job, how the company would actually execute it. The team put ideas up on a whiteboard, but nothing clicked.
While the first four ideas were organized and structured, they went with the fifth option: "Say yes and figure it out." That spirit has helped Crema pursue—and win—ever-larger clients.
Right now, enterprises make up about 70 percent of Crema's clientele, but in the early days, startups accounted for most of its business. They were the ones who were willing to take a chance on an up-and-coming agency. (Even then, though, Crema always had a couple of big clients like the Ewing Marion Kauffman Foundation and Saint Luke's Health System.)
There are some differences between those types of clients. Startups tend to make decisions faster and with a bit more emotion because they're smaller and have fewer stakeholders. Enterprises usually possess more knowledge about their business model and market because they've been in operation longer.
Startups use Crema because they don't have the people or expertise to easily build an app on their own. Enterprises might have internal teams with the technical chops, but they're usually too busy handling their regular workload.
Plus, Crema can bring a fresh perspective to problems, its leaders said.
"If you're in a large organization, you probably have a business model that you've had for the last 20 to 25 years," Linhart said. "It's really hard to look at something new because all you know is what's within your organization."
Realizing Success
Success hasn't been a straight line for Crema. While the agency grew a great deal in 2015, there was no growth the next year. It was, in part, a matter of growing pains and learning how to manage a larger company, Linhart said.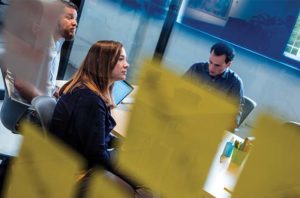 That was also the year that he and Brooks, at the advice of their mentors, made the decision to start replacing themselves in the business. They handed off more of their responsibilities to other team members so the founders can focus more on the Crema's overall health and future.
Today, there are some clients neither of them have met—which was both a relief and, at first, a little scary.
"That's success for us," Brooks said, "because we're not the bottle-neck of the company."
'You Just Have to Be Real'
Every Friday, Linhart and Brooks get coffee and talk about the business. It's a standing meeting and a key ingredient in their partnership.
"Early on, it was like, all right, how'd I piss you off this week? How'd you piss me off this week?" Brooks said, laughing. "And that's what the conversation was like because we were learning to work together."
It's important for business partners to have those talks so they can call out any disagreements, the co-founders said.
"You just have to be real," Linhart said. "We have our days where we have our arguments, but we build space for that on purpose because we know it's going to happen."
Creating Enduring Value
Today, Linhart and Brooks can spend more time talking about the future of the business.
They feel like they're on the edge of another season of growth. Some of their bigger clients are growing, which means there likely will be more work for Crema, too.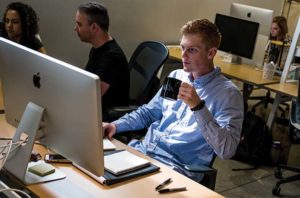 Right now, most of Crema's business comes from referrals—a testament to the quality of the team's work. Over the past six to eight months, though, Brooks and Linhart have been putting more emphasis on prospecting and marketing.
"We can't get where we want to go just with referrals," Linhart said.
To meet increasing demand, Crema could hire another five employees this year, bringing the agency's headcount to 35—and almost maxing out its space in the Crossroads. The leaders aren't sure yet whether they'll need to add a satellite office or move to a new location. They're still exploring the idea of more outposts in other cities.
A few years down the line, it's possible that Crema could employ 100 people, Brooks said.
It probably won't be using the same programming languages or frameworks—technology always continues to evolve. But Crema's core value proposition will endure.
"We will still be working together in cross-functional teams, developing solutions to key business problems that businesses have," Linhart said. "That's where we're marching to. We always want to be doing that.
"The technology will change, and the people here will change. Even our space at some point will need to change. But what we're doing and why we're doing it will remain the same."
Big News
In July 2018 — after publication of this article — Crema announced it would open a new office in Washington, D.C. View the announcement below.