For 90-plus years, Knit-Rite has been a leading producer of prosthetic and orthotic textiles, all made in America.
---
According to conventional wisdom, textile businesses can't compete in America.
When it comes to Knit-Rite Inc., at least, the conventional wisdom is wrong. The Kansas City, Kan., company designs, manufactures and markets a wide range of products for medical and consumer customers, including:
»   Prosthetic socks that amputees can wear over their limbs, cushioning them from the friction caused by prosthetic devices
»   "Cranial interfaces," a type of cloth cap that kids with head-shape deformities can wear under their corrective helmets
»   Seamless diabetic socks that wick away moisture and don't inhibit circulation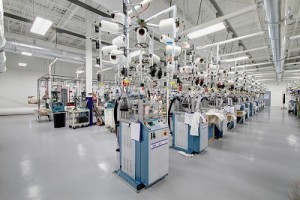 Those items—which are just a small sampling of Knit-Rite's product line—are all made in the United States, both here and in the company's North Carolina facility. All told, the company employs about 175 workers.
"We make interface products for basically any kind of artificial limb or brace," CEO Mark Smith said.
Knit-Rite, now well into its 90s, has stayed competitive because it's continued to experiment—not just in the type of products offered, but in how they're made. The company bills itself as the first in its sector to include antimicrobial and moisture-wicking fabric in its products.
A Family Tradition
But really, innovation has been part of Knit-Rite's story ever since 1923, when a prosthetics entrepreneur named Billy Isle decided to make a better class of "stump sock" that amputees could wear over their limbs.
Isle was an amputee himself, having lost his left foot to a train when he was a young man. In 1906, he went into the business of selling prosthetic and orthotic devices for the J.K. Rowley Co.'s Kansas City office. When World War I broke out, Isle was recruited to plan and open a series of amputee facilities in Britain, France, Italy and Russia.
He eventually came home, bought his old employer and renamed it the W.E. Isle Co. in 1920.
Though Knit-Rite started as a side project, it quickly became a household name. One of the key people who built the company was Ted Smith, an amputee and customer who joined Knit-Rite as a salesman. Smith, who was Mark's grandfather, became a partner and eventually president.
Ted was succeeded by Mark's father, Bill. The company was sold in 1992, but repurchased by the Smith family and management in 2006. For Mark Smith, who worked in Knit-Rite's mailroom as a teenager, it was a chance to get back to his family's tradition.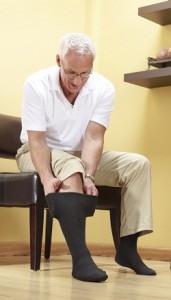 "It was still a passion," Mark Smith said. "I loved the industry, and it was a great opportunity to become the owner of it again."
A Different Strategy
In 2000, Knit-Rite purchased the North Carolina-based Therafirm brand, which is best known for its compression hosiery. In 2013, Smith and his team moved their North Carolina operations into a newly renovated facility, creating several new jobs, even as a competitor announced plans to offshore work to Mexico.
"Maybe we're willing to make less money," Smith said. "We have a different long-term strategy."
Smith said his Christian faith is a big factor in how he leads his business. Knit-Rite supports a range of nonprofit groups and gives paid time off when employees volunteer in the community.
"What we do outside these walls," he said, "is at least as important as what we do inside."