Increasing your online sales can be a difficult task, especially if you're relying on a small in-house team. While it may sound logical to expand your team by hiring new roles, this can be an expensive and challenging endeavor, and keeping up with the pace at which marketing evolves may prove to be more than you expected. 
When you consider all of the specialized skills and technical aptitude required to execute an ecommerce marketing plan, along with infrastructure costs such as office overheads, benefits, training and so on, you can understand why many ecommerce companies chose to hire an ecommerce marketing agency instead of trying to build a large in-house team. 
Ecommerce marketing agencies work as an extension of your in-house team. Their deep experience in a range of ecommerce marketing disciplines makes them experts to boost your online sales quickly and affordably, using tried-and-tested techniques to get you the results you want. 
Here are six ways hiring an ecommerce marketing agency will accelerate your online sales: 
Strategic Planning
It's hard to drive sales when you're stuck in a box or experiencing tunnel vision. This is why one of the biggest advantages of hiring an ecommerce marketing agency is the fresh perspective the agency brings to your business. 
After taking some time to get to know you, your brand, your goals and what makes you unique, an ecommerce marketing agency will use its expertise to formulate a strategic marketing plan that's geared towards your goals and driven by results. In this case, the results are increased online sales. 
Combining ecommerce expertise with knowledge of your brand, an agency is able to take a unique angle on your ecommerce marketing tactics while optimizing them for the digital world's highly competitive terrain. 
Branding
To boost online sales, your brand needs to resonate with your audience. But creating an engaging brand that puts people in the mood to buy goes beyond logo design, mission statements and color schemes. Instead, you need strategic branding at every touchpoint. 
An ecommerce marketing agency with brand expertise has the skills and manpower to bulletproof your brand, from creating distinct visuals and framing your team's culture and values to establishing a harmonious brand message that authenticates your position.
When consumers trust a brand, they're more likely to convert into paying customers, especially if they align with your values. In fact, 71% of consumers feel more compelled to buy from a brand whose values they align with. This is why it's crucial not to cut any corners when it comes to branding — hire an agency that can put 100% effort into every area. 
Website Development
It's no surprise that, in order for your online store to do well, your website needs to look good and have great functionality. In 2021, consumers have come to expect lightning-fast page load speeds, device compatibility and immersive digital experiences as the base minimum for websites. So, if you want more of your visitors to convert into customers, you need to make sure your site is up to snuff. 
An ecommerce marketing agency offers intelligent web solutions that give visitors an immersive experience while driving sales. These solutions include UI/UX audits, on-page SEO and custom, data-driven designs that encourage conversions and reflect your brand's personality. 
By outsourcing your web design needs to an ecommerce marketing agency, you'll gain access to fully dedicated and experienced web designers and developers, as well as the best programs and software out there. This ensures your customers have a great shopping experience and feel compelled to buy. 
Search Engine Optimization (SEO)
A key part of what ecommerce marketing agencies focus on is how to increase website searchability. This is vital for ecommerce brands looking to increase their online sales because it's all about getting your brand in front of the people who are searching for what you're offering. 
An ecommerce marketing agency will have dedicated SEO experts who can improve your website's searchability and establish long-term domain authority. Some examples of how agencies do this are:
Conducting an SEO audit to pinpoint areas of improvements 

Using this to create a powerful SEO content marketing strategy 

Continuously monitoring SEO performance with real-time analytics 
Ecommerce Marketing Activity Implementation
Another way ecommerce marketing agencies help businesses increase online sales is by helping them activate marketing activities. 
From social media management, content marketing and email campaigns to affiliate marketing, ad campaigns and link building, an ecommerce marketing agency has the skills, manpower and breadth of knowledge to help ecommerce brands get the most out of their marketing efforts.
Real-Time Reporting & Analytics
Key to conversion rate optimization (CRO) and, therefore, more online sales, is quality data that lets you track key performance indicators (KPIs) such as cart abandonment rates, number of transactions, site traffic and, of course, number of sales. 
But in order for data to be really effective, you need to collect a lot of it, and you need to collect it every month — that's in addition to organizing it, analyzing it and comparing it. As you can imagine, this takes time, a specialized skill set and uncovers key insights to increase online sales. 
An ecommerce marketing agency will typically offer real-time reporting and analytics as a standalone service, using automated reporting tools to gather data quickly and present it in a digestible format. This makes it much easier to identify patterns and areas affecting sales growth, while also saving you loads of time.
Benefits of Hiring an Ecommerce Marketing Agency 
Considering the value ecommerce marketing agencies bring to businesses, one of their biggest benefits is how affordable their fees are, especially when compared to the cumulative cost of hiring in-house roles.
With an ecommerce marketing agency, your money goes a long way. Not only does it buy you knowledge, experience and time, it also gets you access to advanced digital tools and added support from industry experts so you can continue to grow and scale your business. 
Another benefit that comes with an ecommerce marketing agency is the amount of time you'll save. By letting the agency focus on driving your online sales, you can focus on other important areas of your business, such as product development and customer service, which are equally important to making customers want to continue buying from you. 
Perhaps the most significant benefit an ecommerce marketing agency brings, however, is the power of expertise. Offering a comprehensive suite of marketing services at every stage, an agency gives you the means to reach goals you never thought were possible.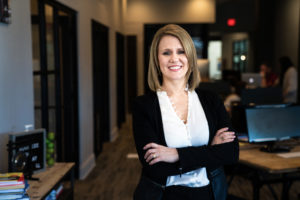 Brandee Johnson is the owner and CEO of LimeLight Marketing. After a 15 year run in corporate America, working for leading brands Deluxe Corporation and LEGO, Johnson followed her long-time dream of starting her own company and founded LimeLight Marketing, a brand, digital marketing and development agency that helps brands foster customer trust and grow market share. Since then, the agency has grown rapidly to serve companies across the US.