Vintage Entrepreneurs: How the Couple Behind Jowler Creek Built a Thriving Business
Colleen and Jason Gerke have turned Jowler Creek Vineyard & Winery from a hobby into a business that, like their vines, just keeps growing.
When Jason and Colleen Gerke moved from Waldo to rural Platte City in 2003, all they wanted was a little breathing room.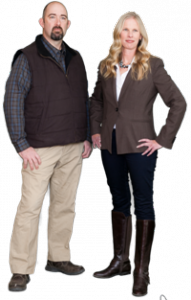 A California native, Colleen Gerke took one look at the property and thought of home.
"Grapes would look so pretty here," she said.
Before long, the Gerkes, who both have backgrounds in marketing, were planting grape vines. Years later, the vines have grown from a hobby to a business, Jowler Creek Vineyard & Winery, which has a loyal following along the Great Northwest Missouri Wine Trail.
Jowler Creek has experienced tremendous growth since the couple sold their first bottle of wine in June 2007. They've hired 10 part-time employees; opened a second winery, Weston Wine Company, in May 2014; and have spelled out plans to take Jowler Creek to the next level.
To get there, the couple has turned to ScaleUP! Kansas City for help. Their business was one of 15 chosen for the free program from the UMKC Innovation Center and the U.S. Small Business Administration. It provides classes, peer mentoring and other help to those who have been in business for at least two years, generate at least $150,000 to $750,000 and have a market capable of generating more than $1 million in sales.
Colleen Gerke said ScaleUP! has already proven to be a valuable resource for long-term planning.
"It's just so hard when you run a business day-to-day to actually devote time to planning," she said. "The two of us could come up with a plan, but getting all that insight from our speakers and our advisers, the teachers and your peers—just having other people poke holes in your plan or come up with things you've never thought of, looking at it from a different perspective— it's been awesome."
Their Cup Runneth Over
The winery sits on 15 acres outside Platte City. It produces nine wines that have earned praise from customers and two top honors from critics at the Jefferson Cup Invitational.
The vineyard has also earned a reputation for its green, sustainable practices. The Gerkes use solar power to help make the wine, employ sheep to control weeds and keep chickens to reduce insects.
The Gerkes have also taken a measured and patient approach to growth. They planted the first vines in 2003, but had to wait three years before the vines matured enough for a harvest. Even when wine production started, the couple still worked corporate jobs by day and farmed at night. They used every single minute.
"On our lunch breaks on our day jobs, we'd go around and visit the stores and take orders and deliver wine," she said.
Soon enough, customers found their vineyard nestled among the traditional Platte City farms. "People on the weekends would knock on our door," Colleen Gerke said.
Uncomfortable customers quickly realized that instead of finding a tasting room, they were knocking at the Gerkes' family home.
"Do you make wine here?" they would ask sheepishly.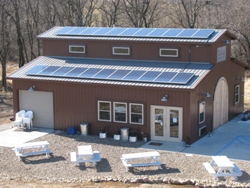 The Gerkes decided to set up a tasting room in their basement. When they outgrew that, they built a stand-alone building to house the tasting room, inventory and wine production materials.
It wasn't enough. They moved their wine inventory to cave storage in order to free up enough space to host up to 32 people in the tasting room. Their tours are regularly full. Farm-to-table dinners immediately sell out.
A large patio gives them more seating space and an area to host bands and outdoor events, but it's weather-dependent. "We'd like to have a lot more space," Jason Gerke said.
Work will begin this spring to expand the tasting room and production facility at Jowler Creek. Eventually, the couple would like to build an event center with a tasting room on the other side of their rural property.
'OK, Let's Look at the Big Picture'
Participating in ScaleUP! Kansas City has already helped the Gerkes in several areas, including employee management.
The couple recently sat down and clearly defined all the job roles, including their own. The act of writing down every job description and its expectations not only benefited the couple, it also helped employees understand their roles, pay scale and potential for growth.
ScaleUP! helps them stay focused on their business's long-term goals, the Gerkes said. They admit that it's easy to get caught up thinking about the day-to-day and week-to-week tasks.
The couple has been diligent about putting together a strategic plan each year, but ScaleUP! is taking it to a deeper level.
"When you're running a business seven days a week, you tend to focus on the tactics," Jason Gerke said. "And this has forced us to step back and say, OK, let's look at the big picture and let's talk about what are our goals and strategies. And then tie the tactics to it and question our physical actions."
Are you interested in ScaleUP! Kansas City? The program is taking applications for its next class now through April 19. 
(Top and bottom courtesy of Jowler Creek Vineyard & Winery. Portrait of Colleen and Jason Gerke courtesy of Elements Studio Photography)