Knowing the best way to set up and manage your online store can be pretty difficult in 2021, especially with two ecommerce titans vying for the number one spot. We're talking — of course! — about the age-old battle of WooCommerce vs. Shopify.
One is a free, open-source plugin, while the other is a pay-monthly, ecommerce CMS — but pricing aside, which one is actually best for your ecommerce business? We look at the pros and cons of each platform, from the features and flexibility they offer to the prices they set. Continue reading to see which one is right for you.
WooCommerce vs. Shopify: What's the Difference?
The main difference between these two ecommerce platforms is a fundamental one. WooCommerce is a free plugin you can install on WordPress to add ecommerce functionality to your website. Included with this plugin are vital features like inventory management and shipping integration. It also offers a lot of flexibility in terms of what you can do and how much money you want (or don't want) to spend.
Shopify, on the other hand, is an ecommerce CMS (content management system) that allows you to build a scalable online store. As a pay-monthly service, it comes with a ton of built-in features and apps and allows you to sell across multiple platforms such as digital marketplaces and social media. So, while WooCommerce is free to use and allows you to create a truly bespoke online store (if you know code!), Shopify does it for you all in one place but for a price.
Pros and Cons of WooCommerce
With those key differences in mind, you may already have an inkling about which platform is best for your ecommerce business. In general, if you have an in-house developer and want a fully customized shop with greater flexibility, WooCommerce offers the most functionality without a subscription pricing model. If you're on a tight budget and have a dedicated staff, WooCommerce offers the most functionality at the lowest price.
But there are a few factors to consider other than pricing. For a deeper look at how they compare, here are some of the pros and cons of these ecommerce giants, starting with WooCommerce:
Fully customizable, but requires coding knowledge:

If you want total control over the look and functionality of your online store, you might just love the limitless customization WooCommerce offers. However, as an open-source plugin, you'll  need a good understanding of code in order to do this, so it's not the most beginner-friendly option.

Free to use, but only for base functionality:

The biggest benefit of WooCommerce is that it's completely free to install, making it ideal for small businesses just starting out. But be aware that, if you want to improve your online store with premium add-ons, you'll have to start paying. Usually, the extensions on WooCommerce are fairly priced, but it can add up if you require a lot more functionality and don't have a budget set aside.

Scalable, but only works on WordPress sites:

As an open-source plugin with a huge range of features and add-ons, WooCommerce offers amazing flexibility, giving you the chance to grow your online store alongside your business in an easy, straightforward way. The downside is that WooCommerce is a WordPress-only plugin, meaning that, unless you have a

WordPress website

, you'll be unable to use it, or you'll have to rebuild your website in WordPress first.

More customization for marketers:

One significant advantage of WooCommerce is that WordPress has the ability to customize your marketing content with ease without engaging a developer. Most WordPress themes and custom-build themes allow users to create content without a developer, while most new pages in Shopify will require at least some minor development to set up each new page or will require you to purchase an additional add-on for Shopify like this

Landing Page Builder

.
Pros and Cons of Shopify
Fully hosted by Shopify:

One potential bonus of Shopify is that it's fully hosted on Shopify's own servers. For companies that value the ease of an all-in-one, out-of-the box solution, this can be attractive. It means you don't have to research or worry about security or installing any software. Shopify hosting comes at a price, with the basic plan starting from $29 per month.

Multichannel integration, but includes transaction fees:

If you choose Shopify for your ecommerce business, you'll benefit from being able to sell across multiple channels, including Amazon, social media, eBay, and even Pinterest, via a built-in feature that gives your online store more reach. At the same time,

Shopify charges

transaction fees

on all purchases. For a basic plan, the fee is 2.9% + 30 cents per transaction, while for an advanced plan costing $299 per month, it drops, albeit slightly, to 2.4% + 30 cents per transaction. If you choose an external payment gateway, there will be additional fees.

A range of storefront themes, but only 10 for free:

Unlike WooCommerce, Shopify doesn't offer unlimited customization options. To make up for this, it puts you in touch with a huge range of storefront themes that help to make your online store look stunning and professional without much hassle. The downside to this is that only 10 themes are available for free. If you want to use others, you can shop from

Shopify themes

or third-party sites like

Theme Forest

and pay a fee that generally ranges around $160 to $180 per theme.
Which Has Better Features, WooCommerce or Shopify?
WooCommerce and Shopify are ecommerce giants for a reason: They both offer incredible tools and features that will bring the online store of your dreams to life. Choosing which one will bring the most to your ecommerce business depends on your specific needs and priorities. Here's a look at some of the features each platform offers and how they differ:
Abandoned cart recovery:

This comes as a free, standard feature with Shopify and includes sending a friendly email reminder to those who have left an incomplete order.

If you want this with WooCommerce

, you'll pay an annual fee of $59.

Multichannel selling:

You can integrate your store with different channels using both WooCommerce and Shopify. The difference is that, with Shopify, multichannel integration is completely free, whereas WooCommerce charges $79.

Email marketing:

You can easily run email campaigns using either platform. With WooCommerce, you can use seamless Mailchimp or HubSpot integrations to do this, whereas Shopify requires you to pay for an app like

Seguno

to run email campaigns.

SEO:

Both WooCommerce and Shopify provide top-of-the-range SEO features. In general, WooCommerce has a wider range of SEO plugins than Shopify and is also built with code that's already been optimized.
Which Ecommerce Platform Is Best for Your Business?
When deciding between WooCommerce vs. Shopify for your ecommerce business, it all comes down to how much you're willing to spend and how much customization you require.
There are many cases where WooCommerce would be the best ecommerce solution. For example, if you're on a budget and have a fairly sound understanding of how to customize using code, it's the cheaper option by far. Even if you're not very confident with code, or don't have staff dedicated to web design, the number of WooCommerce customization guides out there make it fairly easy to learn so you can customize your website to your heart's content.
So if you want to save money and are willing to undergo a bit of a learning curve, then WooCommerce is the best choice for your ecommerce business. Even if you have a big budget, WooCommerce may still be the best option if you want a fully bespoke online store and have a staff that is able to make it a reality. Fully customizable options are something you just don't get with Shopify, even with the most advanced plan.
That said, Shopify is the way to go if you want a hassle-free experience of running an online store. While it costs more up front, most of its features are built in and free to use — like multichannel integration and abandoned cart recovery. As an ecommerce CMS, Shopify edges out WooCommerce in a number of ways:
You can get your store up and running much faster with Shopify.

Shopify has partnerships with international couriers, including UPS and DHL Express, meaning you don't have to source your own couriers.

With Shopify, you have 24/7 customer support on hand in case you need help.

There are no hidden charges with Shopify, so you always know how much you're going to be spending, whereas this can be clouded with WooCommerce.
The Final Verdict
So, what's the final verdict on WooCommerce vs. Shopify?
If you're comfortable with WordPress, looking to save a bit of money, and want total control over the customization of your online store, then WooCommerce is best for your ecommerce business.
Meanwhile, if ease-of-use is most important to you and you have the budget, Shopify is your solution. Both platforms provide industry-leading features that will set your ecommerce business apart from the rest, and both are flexible enough to grow alongside your business.
So the good news in this dilemma is that, no matter which one you choose, you can rest easy knowing you'll be in good hands.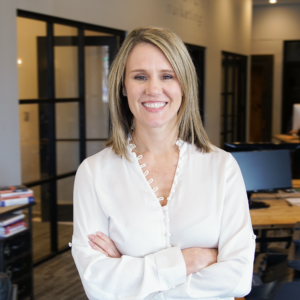 Brandee Johnson is the owner and CEO of LimeLight Marketing. After a 15 year run in corporate America, working for leading brands Deluxe Corporation and LEGO, Johnson followed her long-time dream of starting her own company and founded LimeLight Marketing, a brand, digital marketing and development agency that helps brands foster customer trust and grow market share. Since then, the agency has grown rapidly to serve companies across the US.