Travis Burch and Carter Clond realize they sell something nobody really wants to spend money on when it comes to a home: new gutters.
"Who thinks about gutters," Burch asked. "It's like the last thing on a home."
Yet when the two discovered a unique product offering in 2015, a lightbulb went off.
They realized that, together, they had the right customer service and business background — combined with the right product — to team up and launch K-Guard Heartland.
Operating at first out of Burch's garage, they started installing the patented K-Guard system, which has a curved design that allows rain to flow off the roof and away from the foundation without leaves, debris and pests clogging the gutters.
"Our business is all about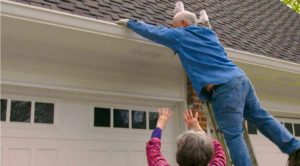 keeping customers off the ladder," Clond said, referring to the potentially dangerous do-it-yourself maintenance required of homeowners with some traditional gutters or mesh gutter coverings.
90- to 100-Hour Work Weeks
When thinking about their small-business journey, the K-Guard co-owners mainly reflect on lots and lots of hard work, especially at the start.
"It was literally 90- to 100-hour weeks. Knocking doors. We did everything ourselves. I did every install myself with a couple of guys," Burch said.
Clond handled every sales appointment and answered every phone call.
"Every small business owner, every entrepreneur understands the grind. You gotta be willing to work," he said. "Especially in the beginning, you don't have all the resources that you really need, not only the capital side of it but, you know, the knowledge part as well. You're trying to learn how to grow the business with what you've got, and you put in a ton of hours."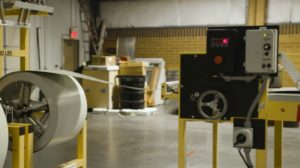 Propelled by that hard work and hustle, they quickly outgrew the garage and had to rent a small warehouse. Then came a second warehouse, followed by a larger shop, followed by their current 12,000 square foot building in Shawnee, Kan.
"Where we were at after four or five years is where I expected to be at 10 or 15," Clond said.
Growing Pains
As sales increased, Burch and Clond knew they had to start adding to the team if they were going to maintain the high level of customer service they consider one of the founding principles of their company. They were committed to not being the kind of company that routinely shows up to potential customers' homes two hours late.
"The biggest challenge at first is finding the right help and the right people to help you build your company. There's growing pains in that," Burch said.
Remembering their experience working together in sales at a company that simultaneously raised prices and cut commissions, making it nearly impossible for them to do their jobs, Burch and Clond decided to hire K-Guard employees with industry experience and pay them accordingly.
"You pay a little bit more, you get a little bit more," Burch said.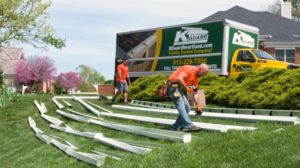 They also learned to apply similar thinking to contracting for some of the professional services that small businesses often put off in the early stages.
"Find the people that are good at advertising or good at accounting or marketing," Clond said. "You've got to be smart enough to know who's doing well in their industry to be able to help you grow in yours."
They caution that when small-business owners bite off more than they can chew, they "get stuck" in the owner-operator role, inhibiting their efficiency and growth.
Reinvesting, Re-Evaluating and Adapting
While some first-time entrepreneurs are tempted to take as much money out of the business as quickly as they can, K-Guard's owners took the opposite approach. In the early years, they paid the business first.
"We wanted to make sure the business was healthy, growing. And then anything that was left over, we could pay ourselves," Clond said.
That allowed for better employee retention and better overall operations.
Now well established, the partners make a point of stepping back and looking at the business as a whole, including a monthly exercise of identifying the weakest point of the business together and figuring out how to improve it.
"We call them leaks. What's our biggest leak currently?" Burch said, comparing it to the discipline shown by competitive athletes who continually strive to get better.
Eliminating the leaks makes the company more efficient and successful.
And when the world throws curves at you, don't be afraid to adapt — and adapt quickly.
Prior to the pandemic, K-Guard's sales calls were almost always inside customers' homes.
Last year, they found new ways to present their product, whether in meetings on front porches and back decks or by sharing professionally produced streaming videos on YouTube to explain the product and address common questions.
Customers First
Burch and Clond clearly believe in the quality and innovation of the K-Guard product, but they see those as almost inseparable from the customer service they provide.
"Not only do you need referrals on the back end, but we're in an Internet age where there's videos, and there's reviews and everything, everywhere," Burch said. "So if you don't have good reviews, and you don't provide good customer service and stand behind your product, you're not going to make it for long."
Because they see this as so essential, they wrote customer service right into their business plan, alongside things like keeping homeowners safe and preventing foundation cracks and flooded basements.
This led to a company culture of addressing problems on jobs, even problems they didn't cause, to keep customer satisfaction high.
Lady Luck
Burch and Clond, who first met when Burch was a poker dealer at a local casino, are confident in their prospects for continued growth, based on their philosophy of focusing on one thing — gutter systems — and being extremely good at that one thing.
"If you're the best at what you do, that's when you're going to find yourself to be extremely successful," Clond said.
A little good fortune along the way is nice, too.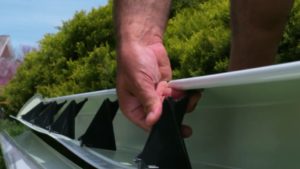 Burch recalled a story from the early days of the business when he skipped a haircut appointment to go pick up their first advertising mailer from the printer.
A woman waiting alongside him in line struck up a conversation and told him she needed K-Guard for her home.
While Burch was installing that job, three neighbors made appointments with Clond, and all three decided to become K-Guard customers as well.
"That was a big jump in the right direction for our business," Burch said. "We got extremely lucky."
Chad Bettes is an award-winning writer from Shawnee, Kan. He earned his master's degree from the William Allen White School of Journalism at the University of Kansas.