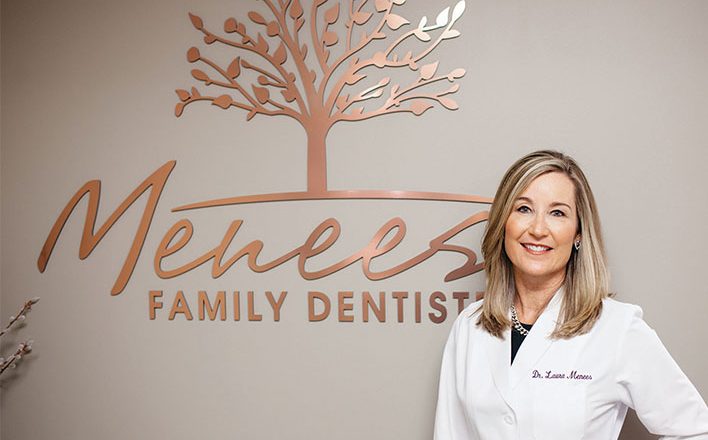 Menees Family Dentistry: Third-generation owner brings fresh perspective to family-owned company
When patients call Menees Family Dentistry, they must be specific about which Dr. Menees they want to see. That's been the case since 1968 when Robert Menees Jr. joined his father, Robert Menees Sr. in the practice Menees Sr. had founded in 1946.
Today, Menees Jr. practices with his daughter, Dr. Laura Menees Moore.
For Moore, keeping the family business going into the third generation is a labor of love — love for her father, her patients and for dentistry. Although dentistry wasn't her first love professionally.
Following family footsteps
Moore majored in biochemistry and business in college and went on to work for several biotech companies, ending up with a position in clinical research. It was her brothers who had been encouraged to become dentists — but didn't.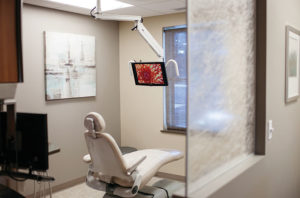 "I realized I liked patient care, so at that point I decided to leap into dental school and follow my father's footsteps at UMKC," she said. "It seemed like it brought together so many of my interests and history, including helping people, my science background, health care and disease prevention and business. It kind of wrapped it up in a bow."
Moore graduated from UMKC School of Dentistry in 2000. But she didn't come to her father's practice right away. Instead, she spent 10 years working with other dentists around the area. Her last stop was Haskell Health Center in Lawrence as a federal dentist with the Indian Health Service.
Not immediately joining the family practice was a good thing, she said.
She'd had another career, in both large and small companies, and had lived in Ann Arbor, Mich., and San Diego for a time.
"I had very different experiences," she said. "I think it does help you. Even in the small decisions along the way.
"What I brought to the practice was very different from my dad and my grandfather. I think the female perspective was also different."
Moore never had the chance to practice with her grandfather but still sees some of his patients, so she's gotten to know him as a dentist through them.
That's something she values as the third-generation owner of a small business.
"I get to hear stories about him all the time, which is really cool," she said. "So I get glimpses of how that practice was from patients."
Third-generation evolution
Taking over the practice was a measured affair. While she was at Haskell, Moore and her father started talking about her joining him. Finally, the time seemed right, and she signed on as an associate. Four years later, she bought the practice.
One of the first decisions Moore made as principal was to move the practice. Her grandfather had started it on the Country Club Plaza; her father moved it to Fairway, and she made the choice to relocate to 83rd Street and Mission Road in Prairie Village.
Today, she spends her days seeing patients and working to grow the practice. Her clientele is older but refers their children and grandchildren.
"This is a competitive town," she said. "We have added a loyalty savings plan. We've tried to do things that will keep the word-of-mouth advertising going for us. We supplement that with some advertising, too."
Moore puts her business background to use every day. She said it's a tough call on which is more intense — dental school or running the business. She relies on her father, their longtime staff and a "study club" her grandfather founded as a network to bounce ideas off and talk through tough situations.
Years ago, she said, it was easier to have a third generation continue a medical or dental practice. Today, competition makes it harder, so her business knowledge is key.
"It's a more typical business than it used to be," she said. "It's harder to keep it afloat easily. You have to work at it."
---
Strategy
Applying new business principles to a 72-year-old family practice.
Company
Menees Family Dentistry
8340 Mission Road, Suite 118, Prairie Village
(913) 362-4488
Type of business
Comprehensive dental care for all ages.
Founded
1946