In May of 2021, 3.6 million workers called it quits on their current jobs. During the height of the pandemic, people were fearful they would be laid off, but that is no longer the case as studies show 48% of the working population is actively job searching. 
There are several contributing factors to why employees are looking to make a change: burnout, remote-work accessibility and growing number of open jobs. 
As an employer, how do you deal with these factors to attract and retain employees?
We are seeing a phenomenon in the job market called The Great Resignation, where employees are walking off job sites with little to any notice. This collective resigning of employees is not confined to one industry. It's a workplace issue, and it leaves the employer wondering what to do next. Even with monetary incentives, employers' efforts are falling flat in their search to attract and retain employees. 
We have seen a change in temperature from the beginning of the pandemic, when job security was so vital and the fear of unemployment was excruciating. Now, employees will work one day at a job and not show up the next. 
It's difficult to not take these decisions personally when you are an employer, but it's essential to understand what is making employees leave and why employees are staying put. The Great Resignation is imminent, and it's up to employers to advocate for their businesses. 
In most regards, an employee's resignation is two-fold. You are losing a talented team member who understands your business, but, on the flip side, you have the opportunity to bring in more talented individuals to help your business grow with new ideas and skills.
The pandemic brought a shift in perspectives, and, for many work-from-home employees, it gave them time to think introspectively about their futures. The time spent away from the office provided a way for employees to reconsider their benefits and what mattered to them the most. 
For some, it meant finding a company where flexibility and remote work were available. In industries where this is not always possible, companies looked at creating hybrid work environments or flexible work schedules to accommodate. 
Despite efforts from employers to accommodate flexible work schedules by way of hybrid workplaces, employees were still jumping ship for remote-only work. Employees were looking for any avenue that would allow them accessibility and flexibility to create a work-life balance, which was now top of mind. 
In other cases, employees turned to learning and development courses to prepare them for what opportunities may lay ahead. According to the Harvard Business Review, in 2020 corporate America spent $165 billion on learning and development. Employees were looking for something to take them out of their ruts and help them reskill for the future, whether it was with their current companies or a future employer. 
The Great Resignation can be a daunting time to overcome and can add even more pressure to an ever-changing workforce. As an employer, it's a hard process to navigate, and it's important to be aware of what changes can come from it. 
Business owners are not isolated in their search for employees in this job market, as companies across all industries are struggling to find the right people. The workforce will continue to evolve, and employees' mindset about work will continue to shift. As with any transition period, business owners are having to learn and adapt to these changing perspectives.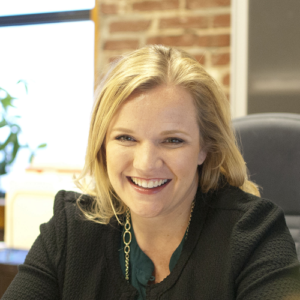 Erica Brune is president of Lever1, a Kansas City-based professional employer organization (PEO) providing human resources, payroll and employee benefit solutions. Within five years of launching Lever1, Erica helped drive the company to become Missouri's Fastest Growing Company of 2017 — ranked No. 44 in the nation by Inc. magazine.