Ecommerce is ever-evolving with new developments in technology, shifting customer behavior and unexpected events you can't plan for. And the last few years in particular have delivered some major changes that have shaped the world we live in and that will continue to shape the future of retail and online shopping.
One way you can keep evolving with the market is to look ahead to 2022's emerging trends. Here are the trends to keep an eye on, and maybe consider implementing for your e-commerce business.
Online shopping
This one should come as no surprise! Online shopping is certain to continue its growth in 2022. eMarketer estimates that e-commerce will rise to a staggering 24% of all retail sales by 2025.
While some consumers may return to bricks and mortar as the pandemic slows, many will still favor the ease and convenience of online shopping, especially as more and more companies are adopting attractive policies when it comes to returns, deliveries and payment options.
Mobile e-commerce
Along with the rise of online shopping comes the rise of mobile e-commerce. The number of smartphone users is increasing every year (see graph), which means the number of mobile shoppers keeps increasing too. This ties in with several other trends making an appearance, such as the rise of social media sales channels and live video and the growth of tech and augmented reality in marketing
Make sure the shopping experience for your e-commerce business is easy to complete on a cell phone and that purchasing is as easy as a couple of clicks.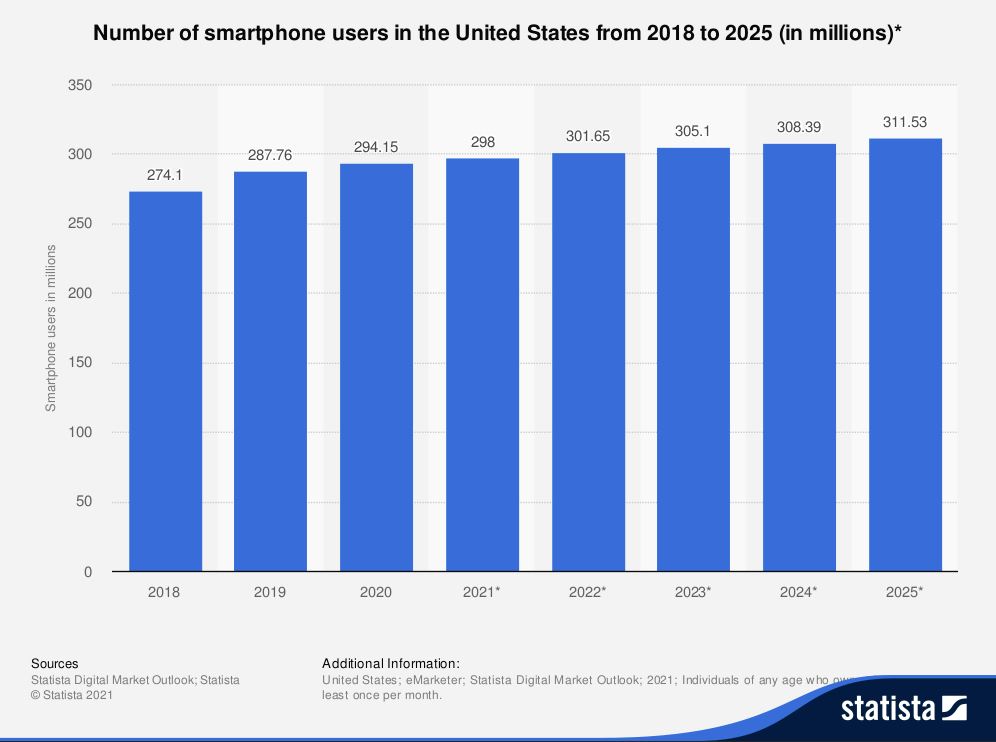 Live video
Live video shopping is increasing in popularity every year. An incredible 37% of online buyers in China made their purchases through the power of video purchasing in 2020, and it's only set to grow.
As a savvy marketer, you can look for ways to implement more live video into your strategy to help boost sales, even if it's a weekly look around your store to show the latest offers.
Video content will help you deliver a lot of detail in a short amount of time, which encourages a high click rate, as well as being sociable and shareable. It also gives your potential buyers an honest view of what you're selling and saves them from having to research it themselves.
Social media sales channels
Ecommerce businesses are beginning to utilize the enormous purchasing power that comes with their social media sites such as Instagram. Over 54% of shoppers use social media to research products they want to buy, and TikTok is the most popular app downloaded in the USA.
Integrating a shopping tab across your social media platforms creates an innovative space where customers can click on a product they like and buy it immediately. This means your customers will avoid the annoyance of chasing a product or trying to find it on your site.
Instead, they're automatically linked to where they want to be. This makes life easier for you and your customers and boosts your business by reducing bounce rates and streamlining the buying process.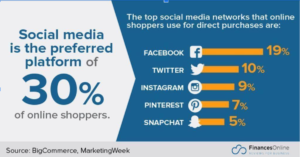 The rise of independent businesses
The allure of indie businesses has been on the rise for some time now as spenders look to invest in companies that align with their core values. 
A few issues now driving this trend include a desire to support a local community, rally behind social change, and respond to the effects of the pandemic on many small businesses.
Conscious consumerism may sound like a marketing buzzword, but it's a big driver in aligning with current shopping preferences and trends. 75% of people say they're becoming more aware of their shopping habits and modifying their choices.
Sustainable shopping
Weaving in beautifully to the topic of conscious consumerism is the trend of sustainable shopping. With a growing awareness of climate change, consumers are keen to support brands that are taking their carbon footprint seriously.
According to a report from GWI regarding green consumerism, 60% of internet shoppers say they are willing to pay extra for eco-friendly products. One in five purchasers also said that a company's stance on sustainability and environmental action informed their purchase choices in 2021.
If sustainability isn't a part of your brand messaging, 2022 could be the time to look at your own carbon footprint and how you can implement more eco-friendly elements.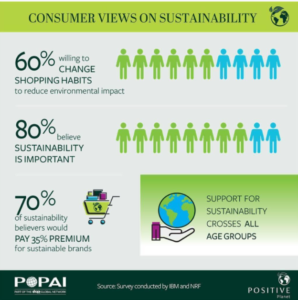 A preference for personalization
Personalization continues to rank high when it comes to trends for e-commerce businesses to watch in 2022. If you want to stay relevant and ahead of the competition, it's important to take the time to understand your customers' needs and wants.
In 2022, this is set to be a lot more sophisticated than just including a first name in emails and birthday memos.
The following innovations can all help to create a truly unique and personalized experience for your customers:
Interactive content

Customized products and services tailored to individual preferences

Personal packaging

Using AI technology to your advantage when collecting data



Voice searches
When it comes to e-commerce shopping, artificial intelligence (AI) technology is contributing to the rise in voice searches. Home hubs, Alexa and other voice-related assistants are all helping direct shoppers to where they want to be.
This trend is, of course, affecting search results, so if you're looking to keep pace with the trends of 2022, it's worth optimizing your website for voice search. You can do this by making sure your online information is up to date and relevant, including business hours, address and contact numbers.
Ecommerce is an exciting world. The growth of AI technology, sophisticated data collection and the evolution of marketing techniques all play their part in growing trends—but so, too, does our environment, circumstances and customer behavior.
As an e-commerce owner, you can invite innovation, change and emerging ideas in your business and get ready for 2022 by staying ahead of the game!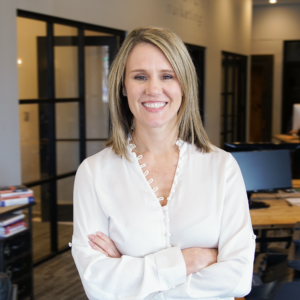 Brandee Johnson is the owner and CEO of LimeLight Marketing. After a 15 year run in corporate America, working for leading brands Deluxe Corporation and LEGO, Johnson followed her long-time dream of starting her own company and founded LimeLight Marketing, a brand, digital marketing and development agency that helps brands foster customer trust and grow market share. Since then, the agency has grown rapidly to serve companies across the US.